Release Date: February 2020
Dashboards, Reports and UI
Improved look and task flows for setup pages
Login, account, user management and setup pages now have an improved look and feel with simplified task flows.
These enhancements reduce the number of steps and clicks needed to navigate the platform efficiently, while also providing enhanced visualization.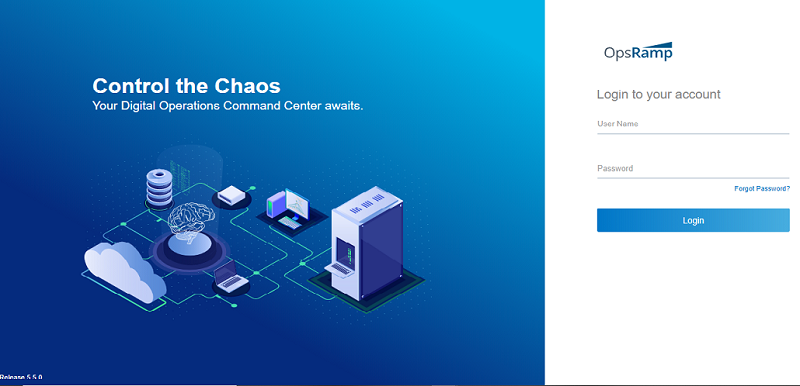 Improved widget selection for dashboards
Selecting new widgets is now easier with a new palette of commonly-used widgets. This visualization makes selecting widgets easier and more transparent.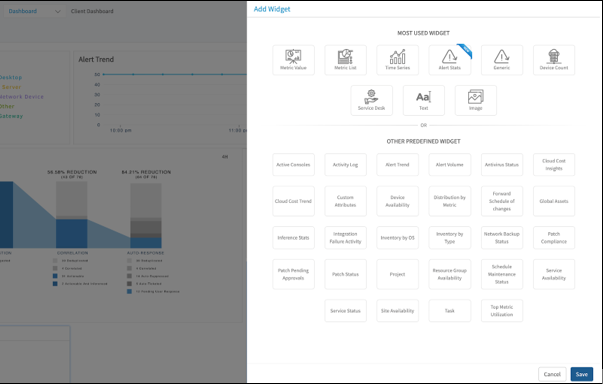 New alert statistics widget
The alert statistics widget shows alert volume reduction by each stage in OpsRamp alert processing pipeline. This widget provides a real-time view of how the machine learning models reduce alert noise.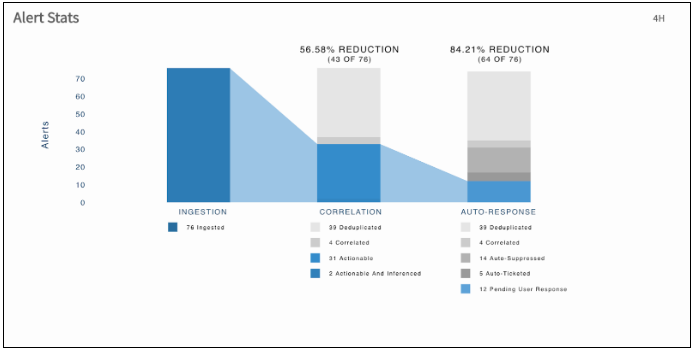 Graphs in custom metric reports
Custom metric reports now support an option to include time series graphs for deeper analysis of insights tracked by OpsRamp.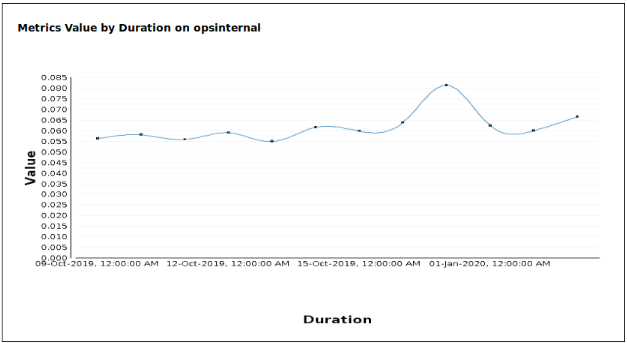 Ticket activity log in ticket export
Exports of ticket data now include the activity log for each ticket. This allows for external data warehouses that consume data exports to accurately account for time spent in each ticket state. See Dashboards and Reportsfor more information.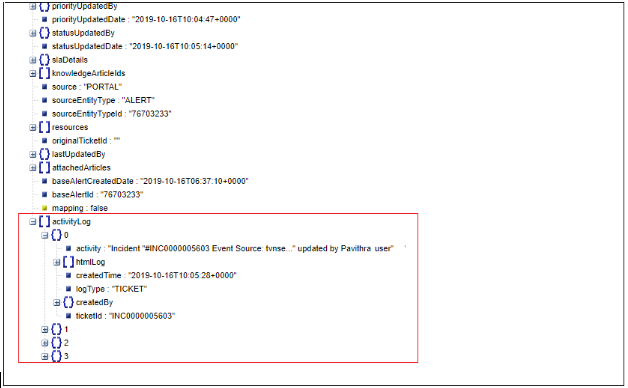 Event Management
Recommend mode
First Response and Alert Escalation policies now provide a new mode - the Recommend mode. In Recommend mode, you see actions that OpsRamp recommends for an alert - based on its automated learning. You can then apply the recommended actions with a single click.
This feature helps you advance from Observed mode, which provides passive insight into decisions that OpsRamp would have made. With recommend mode, you can have a user do final validation before acting on learning-driven recommendations.



Visualize seasonality patterns in alerts
You can now visualize patterns for alerts that are candidates for auto-suppression. You will see a link within alerts that are auto-suppressed or recommended for auto-suppression to launch a widget showing the historical and estimated trends for alert recurrence.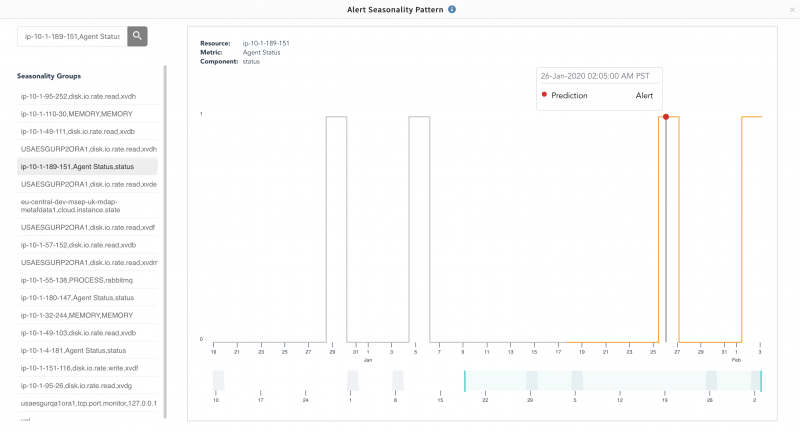 Link knowledge articles to incidents automatically
Knowledge articles play a vital role in helping the IT staff to resolve incidents. Now, you can configure KB articles as part of the alert escalation policy. The incident ticket created through the policy has knowledge articles linked. Alert escalation policies can also learn or be trained to automatically link relevant knowledge articles to incidents.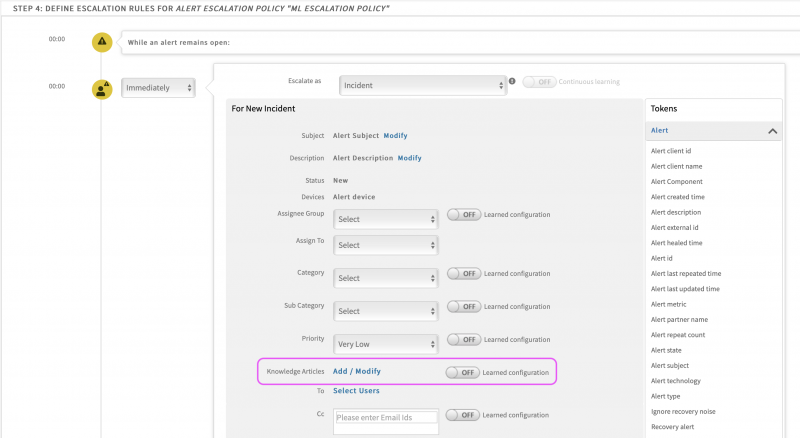 Simplified alert correlation policies
Alert correlation policies are now easier to configure with a newly designed page, which presents policy options in an intuitive layout.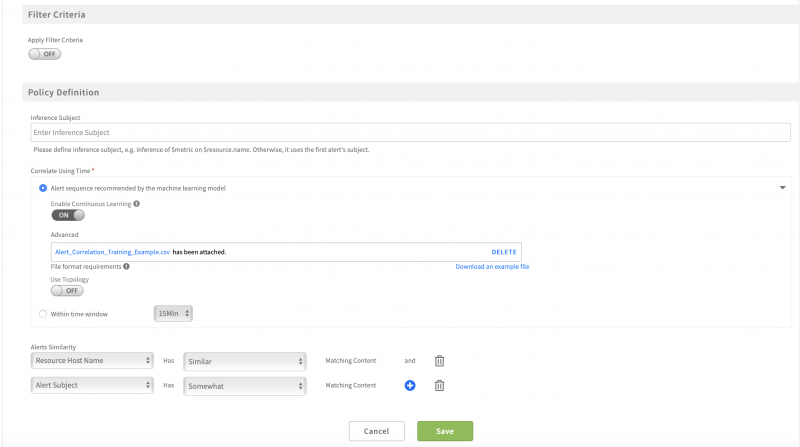 Change detection for all metrics
Before this release, change-based thresholds were available only for metrics collected by the agent and gateway. Now, these thresholds are available for all metrics, including those collected by public cloud infrastructure and web services.

Improved filtering of Windows event logs
The monitoring template for Windows event logs now supports filtering on Message String, including Source and Event ID.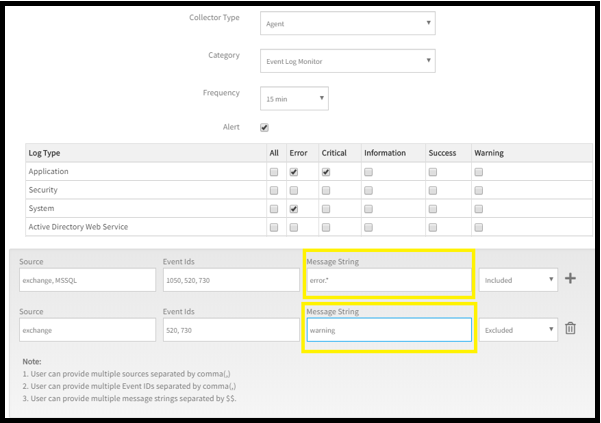 Improved filtering of SNMP Traps
You can now include specific inclusion filters in the SNMP Trap monitors, making it easy to monitor SNMP traps of interest.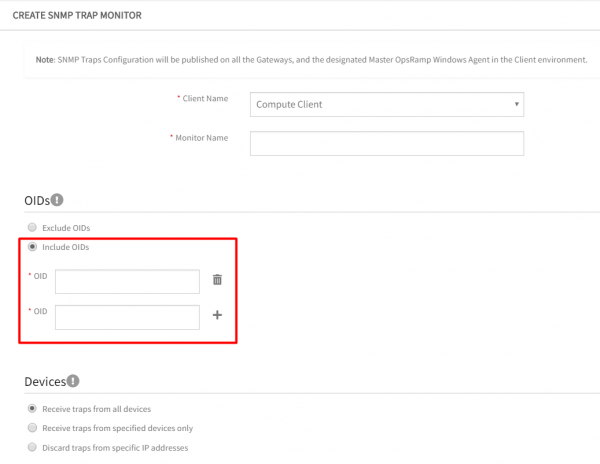 Interactive messages in Slack
With this release, the existing Slack integration is enhanced to support bi-directional integration. After configuration, users can view all OpsRamp-generated incidents as Slack messages on the configured channel and any updates on Slack messages are reflected in the OpsRamp incident. See Slack for more information.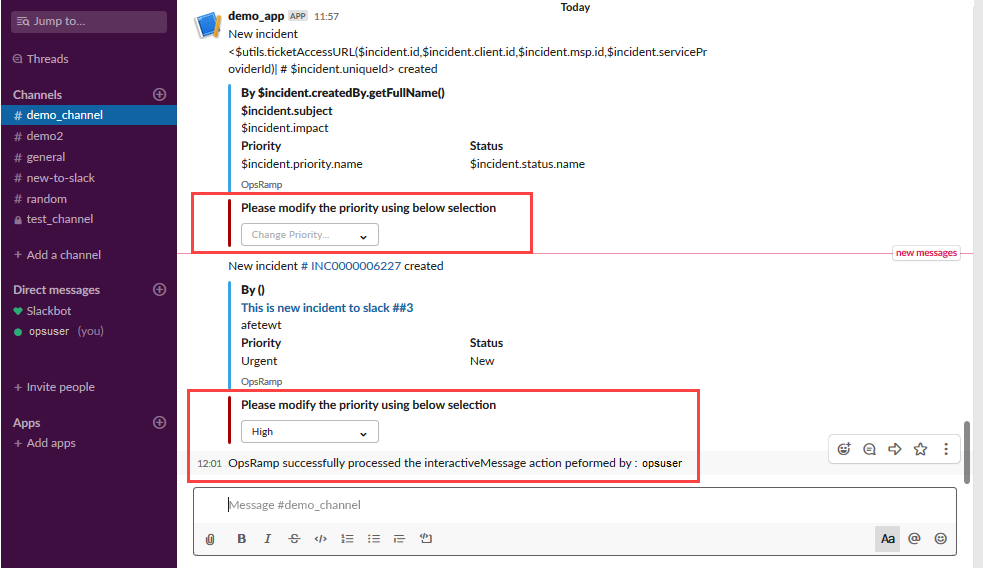 Usability improvements in email integration
The email-based integration framework has an improved user experience. The interface for defining parsing conditions is simplified and the integration framework allows users to define a default parsing condition to avoid dropped email notifications.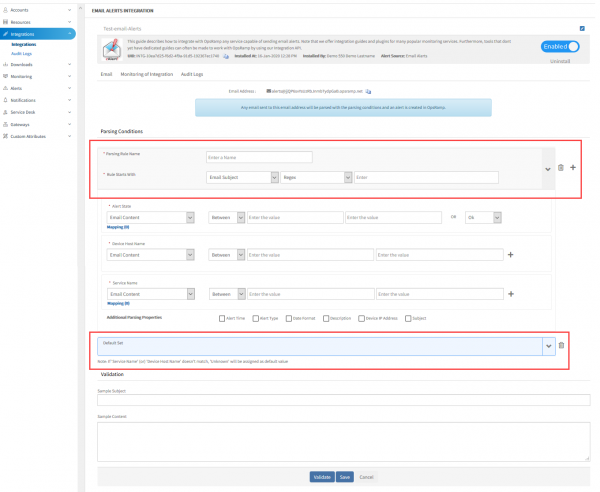 Multiple property and parsing support for webhook-based integrations
Webhook-based event integrations now support improved parsing of event payloads and mapping event properties to OpsRamp event model.
Supported patterns:
Between
Before
After
Regular Expressions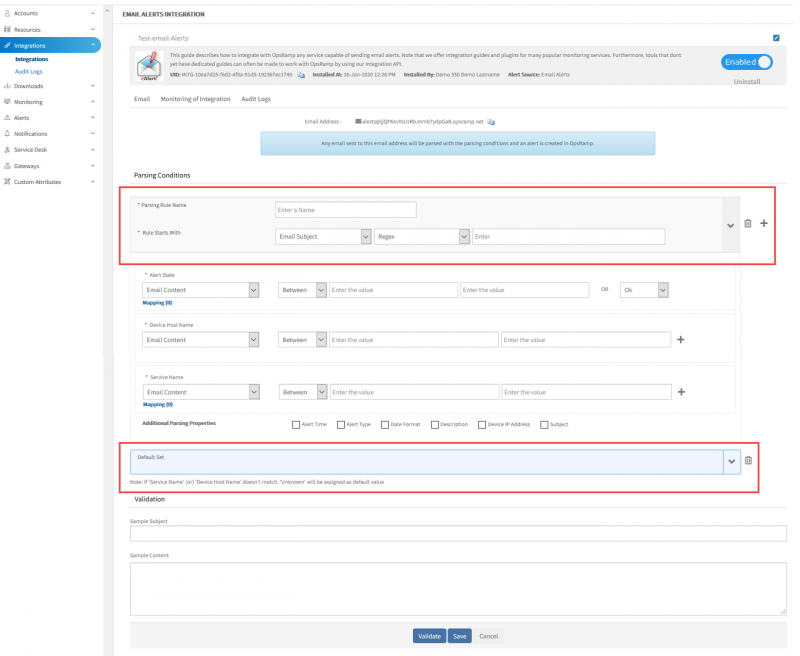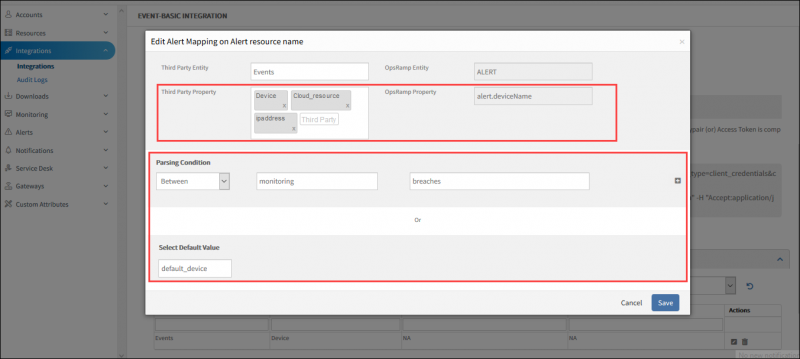 New alert integrations
OpsRamp now includes integrations to ingest events, using webhooks, from the following products:
Hybrid Cloud Discovery and Monitoring
Improved Windows and Linux discovery
OpsRamp now enables remote discovery of Windows and Linux servers using WMI and SSH protocols. See Discovery for more information.
WMI discovery is supported only through Windows-based gateway, while SSH discovery is available from both Windows & Linux gateways.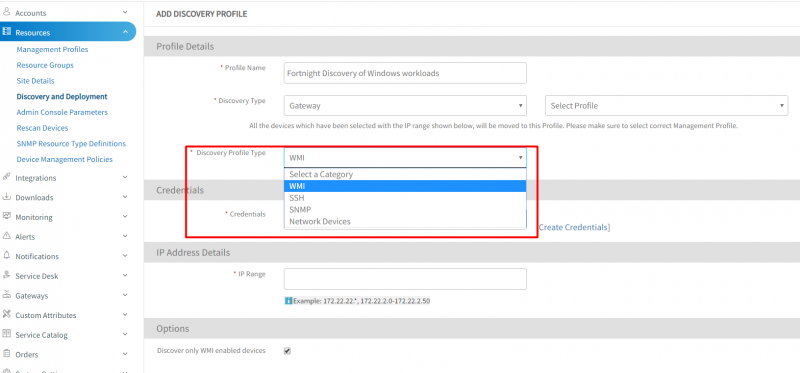 Custom monitors for Windows servers
With this release, the gateway is available as a Windows application (see release note). Custom monitors, based on Powershell and WMI, are supported on the Windows gateway. You can now write agentless custom monitors for applications running on Windows systems.
See Agentless Monitors for more information.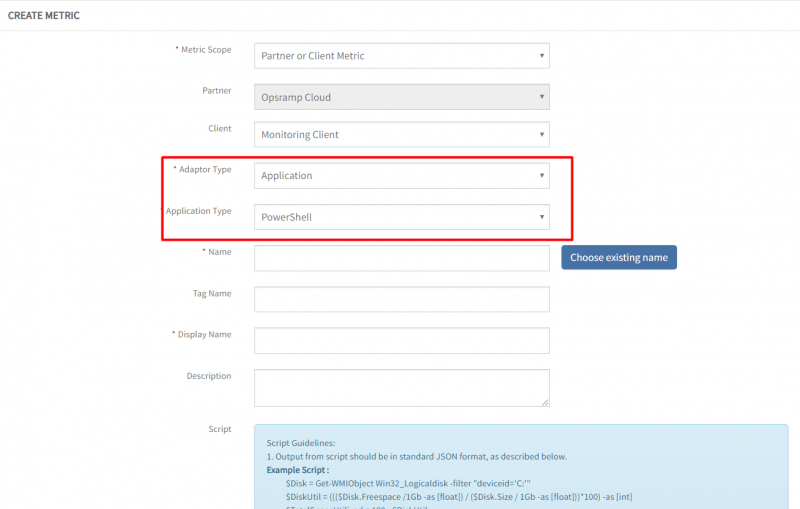 Default availability monitors for cloud resources
The "Status/State" metric found in cloud monitoring templates is now the default availability metric. This provides administrators with a high level understanding of resource availability after assigning monitoring templates.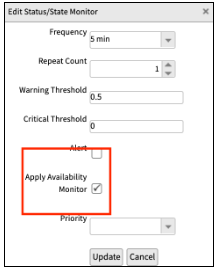 Topology discovery and visualization for Azure and Google Cloud Platform
Building on the existing support for AWS Topology, OpsRamp now supports automatic topology mapping for services in Azure and Google Cloud Platform. This enhanced topology enables teams to identify misconfigured routing rules, visualize VMs that have redundant network routes and more. This relationship data will also be leveraged by OpsRamp event correlation models to reduce alert fatigue and enter the cloud administrator more context when troubleshooting. See Service and Topology Maps for more information.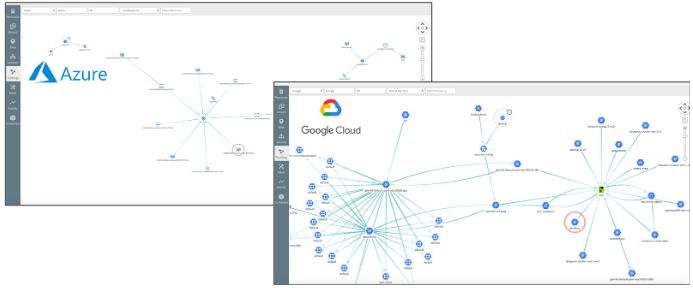 Expanded support for AWS, Azure and Google Cloud services
OpsRamp can now discover and monitor the following services:
AWS
AWS Transit Gateway
AWS CloudSearch
AWS DocumentDB
Azure
Azure Application Insights
Azure Traffic Manager Profiles
Azure Virtual Networks
Azure Route Table
Azure Virtual Machine Scale Set
Azure SQL Elastic Pool
Azure Service Bus
Google Cloud
Google BigTable (Instances, Clusters, Nodes, Tables)
Google Cloud Composer
Google Cloud Filestore
Google Cloud Firebase
Google Cloud Firestore
Google Cloud Memory Store for Redis
Google Cloud Run
Google Cloud TPU
Google Cloud Tasks
For a complete list of supported AWS, Azure, and Google Cloud resources, see Support Matrix.
Onboard AWS resources with External ID and Role ARN
OpsRamp now allows users to onboard their AWS accounts using an External ID and Role ARN. This creates a more secure and stable mechanism for onboarding AWS resources and is aligned with AWS best practices. See Amazon AWS Integration for more information.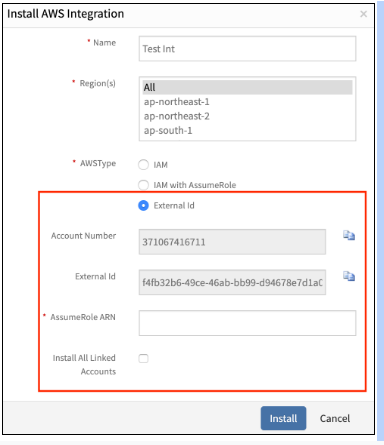 Topology map layout improvements
Users can visualize their discovered topology with a hierarchical view. With hierarchical views you can easily see dependency relationships, host connectivity to network infrastructure, and clustered resources.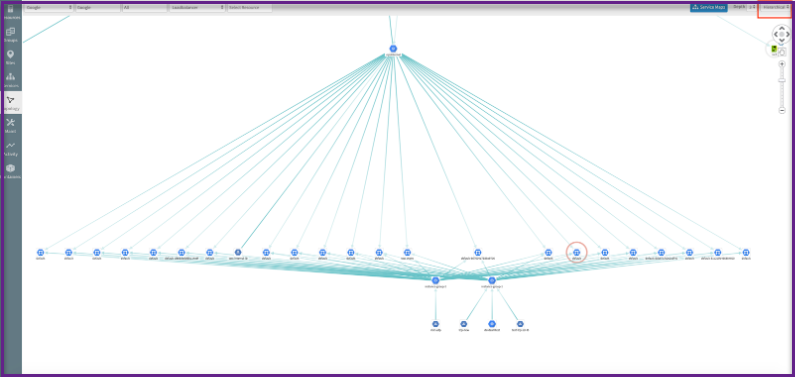 Create Service Map from Topology Map
Now, you can create service maps from discovered topology results. Bridging service maps and topology gives context when creating service maps and will ultimately deliver better alignment with application or infrastructure topology. See Service and Topology Maps for more information.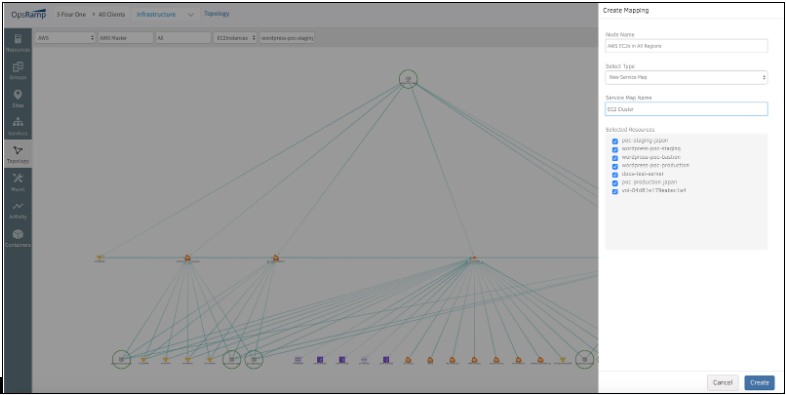 Step-wise breakdown of Synthetic transaction performance
After creating a custom HTTPs synthetic using the Selenium plugin, OpsRamp can now provide deep analysis into each step performed in the transaction. Having deeper insights into the Synthetic transaction enables web service owners to have more context when diagnosing and trying to pinpoint web service issues before the end users are impacted.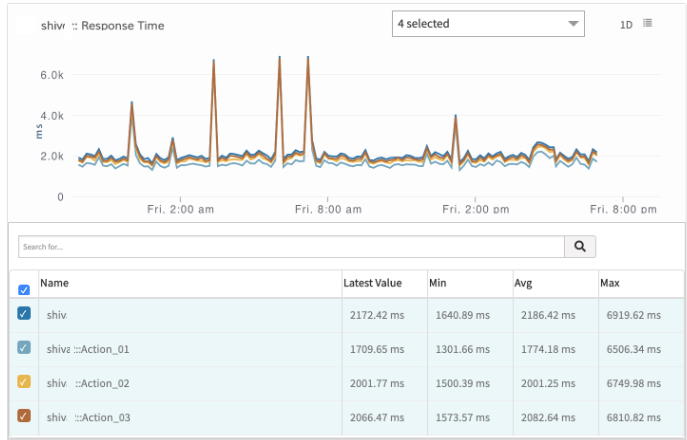 Improved template assignment for Synthetics
Users can now assign templates to web services using device management policies. Many of the configuration parameters for synthetic monitors have also been moved to templates to allow for easier deployment and configuration of synthetic resources at scale. See Monitoring for more information.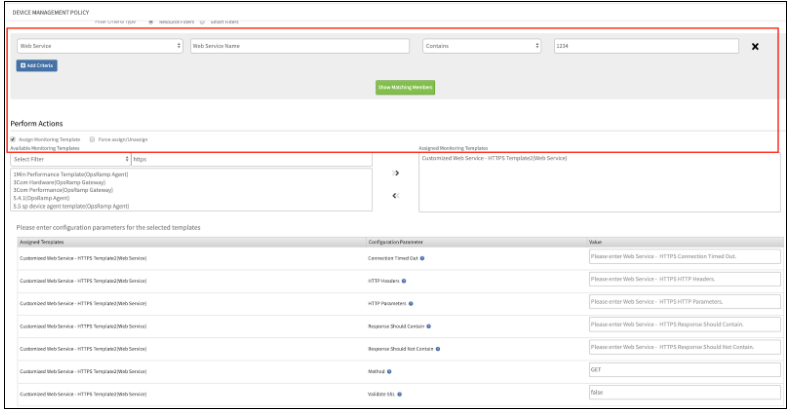 Case sensitive custom attributes
Custom attributes are now case sensitive. Any attributes that are ingested from Third-party tools, or created natively in OpsRamp now retain their case. This means that users can take advantage of any custom tags that are created in Third-party tools, or natively, to group resources, and created service maps.

Uniform name attribute for all resource types
Users can now leverage the name attribute to create resource groups, assign monitoring templates or create service maps. The name attribute is derived from the following attributes with the corresponding priority:
Alias Name
Host Name
Resource Name
Customers can now use a consistent name attribute to query and use across the entire platform.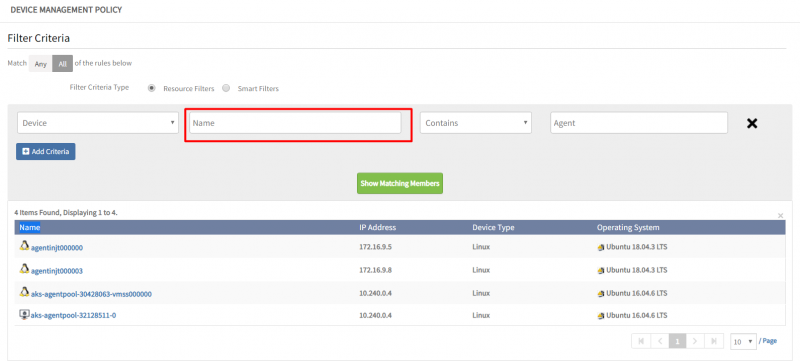 Define device group based on resource interfaces
Users may now use the interface names to group resources. This enables users to group resources that may share a common port or create service maps with the interfaces that support a service.

Azure Blob Store integration for data export
OpsRamp now supports Azure Blob storage. Users can take advantage of this integration, using the data export feature, to export data to Azure blob storage.

Instrumentation management
Ansible playbook to manage Linux Agent
Agent deployment on Linux machines can now be performed using Ansible playbooks. This feature helps users deploy and manage agents at scale with greater efficiency. Users can install agents, switch the agent from proxy to direct and vice versa, update agents, and uninstall agents. Users can download the Ansible playbook from the Agent download section. See Agents for more information.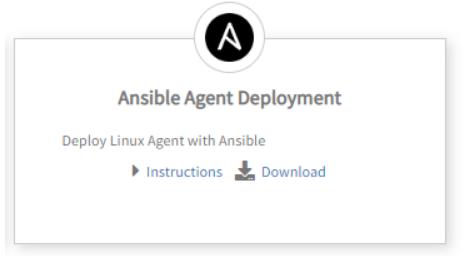 Automated Linux Agent deployment for AWS Lightsail
OpsRamp can now automatically deploy the Linux Agent onto auto-provisioned AWS Lightsail virtual machines. With this capability, OpsRamp provides visibility into VMs as soon as they appear.

Changes in Linux and Windows Agent version numbering
The numbering scheme for OpsRamp Agent versions is changed to align with product release numbers. See Agents for more information.
Windows Agent Release Version Number: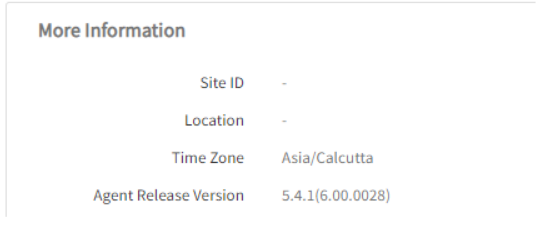 Linux Agent Release Version Number: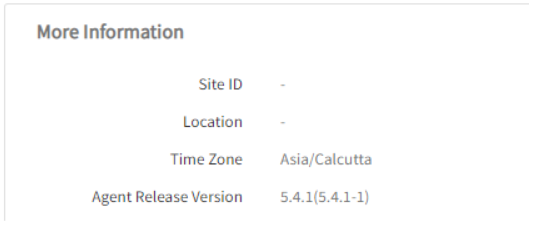 Agent installation and uninstallation logs
Windows and Linux Agents will now leave the trace of installation and uninstallation logs in the end machine. For installation and uninstall issues, these logs provide visibility about the Agent and help identify the root cause of the issue.
One-click to enable debug logs on agents
Agent logs can be set to debug mode from the OpsRamp UI. This makes it easy to temporarily enable debug mode to troubleshoot issues. See Agents for more information.

View agent logs from the UI
You can now see Agent logs from the UI using remote commands.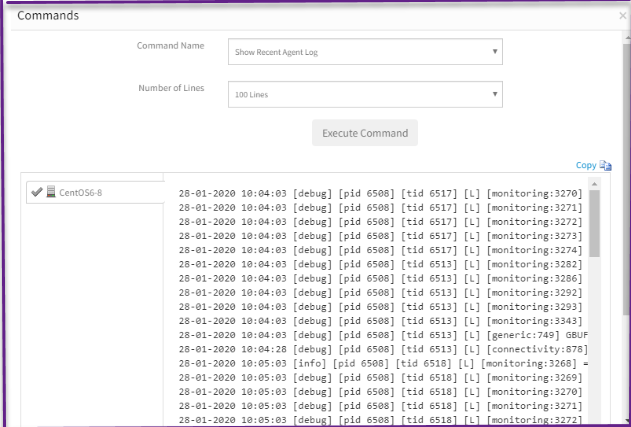 Release Notifications
A new notification feature is now available in the UI. OpsRamp will communicate product related notifications such as upcoming releases, gateway updates, and other information through this new channel.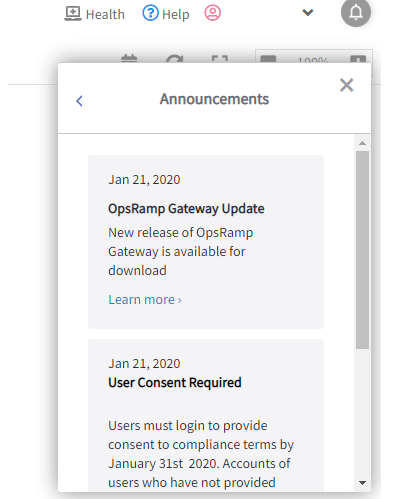 Windows Gateway (Beta)
The gateway is now available as a Windows application. See Gateways for more information.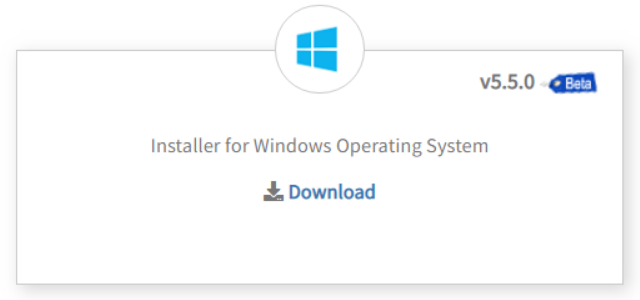 Manage proxy settings on gateways
As part of the gateway security measures, the proxy service on the gateway can be turned off. Users can do this from gateway web UI,console UI, or API.

Password change option for ruser account on gateways
You can now change the password of the ruser account on the gateway.

Gateway with persistent static IP configuration
By default, the gateway appliance uses the IP address assigned by DHCP during the installation. Before this release, the gateway did not persist the static IP address assigned in a non-DHCP network, between reboots. Now, the static IP address is persisted across reboots, on DHCP and non-DHCP networks.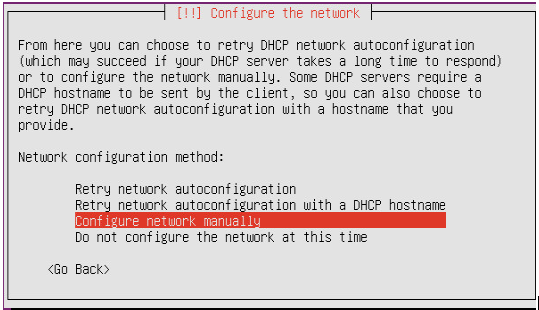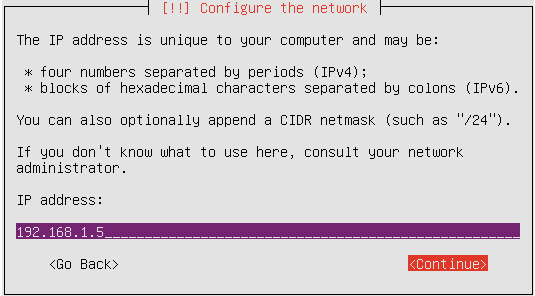 Resource alias IP detection
The OpsRamp Agent is now able to identify all primary and corresponding alias IP addresses on a resource and makes them available in the resource attributes section under "Network Information". With this, users have visibility into all IPs that are assigned on one or more network interfaces present on a resource.

Access Controls
Restrict access from specific IPs
OpsRamp now provides flexibility for administrators to control access to the OpsRamp UI, based on a user IP address. Partner-level administrators can specify a list of IPs from where users can log in to OpsRamp.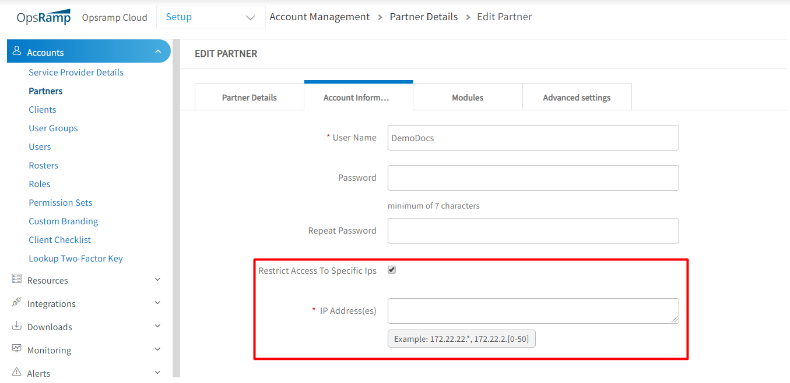 Disabling multi-factor authentication requires one-time password
Users will need to re-authenticate themselves with OpsRamp using the one-time password before they can deactivate multi-factor authentication on user accounts. This provides another layer of security to ensure that organizations that require 2FA can stay in compliance.
APIs
OpsRamp platform provides a rich set of REST APIs across different platform components, enabling seamless integration with third-party products. This release introduces brand new APIs for topology and monitoring management, including enhancements to existing APIs.
Topology API
Now, you can extract Topology information from OpsRamp using REST APIs. Leverage this information to populate CMDB tools, do impact analysis, and more.
Minimal details of Resource
A new Resource API endpoint to fetch minimal details of resources like synthetics or RDS resources is now available. This API was designed to return only key attributes of resources so users could more quickly and efficiently access the resources they were looking for without receiving the full attribute payload.
Improved Patch API
Patching information on a resource now provides status about the installed patch, delivering context for any patching failure or issue that may arise during the patch.
Improved resource API
Device Management Policy APIs are updated with details about the required payload attributes and more attributes in the payload and responses. These checks ensure that administrators understand what payload attributes are needed to successfully create a device management policy using the API.
Improved client API
Client APIs is updated to restrict access of the platform by whitelisting IPs.
Deprecated features no longer available
As announced earlier in Planned Changes, the features below are no longer available in OpsRamp.
Classic Infrastructure UI
SSLv3 and RSA_with_RC4 Ciphers from NetApp Filer
SNMP Trap Filters: SNMP Trap Filters are replaced with the new SNMP Trap Configuration module available under Monitoring Management in the Setup section.
Removal of Download to PDF option for knowledge articles Download PDF menu option has now been removed from the knowledge base articles UI.
Bulk Import option: You can use the resource APIs to add, change and remove resources in bulk.
Alert integrations
The following integrations are removed from the available list and alternatives are recommended.
| Integration | Alternative Integration |
| --- | --- |
| OpsManager | Custom integration |
| DELLCOMPELLENT | Email Integration |
| SAP Solution Manager | Email Integration |
| New Relic Legacy | Use the latest New Relic integration |
User accounts without GDPR consent are disabled
As announced in a previous release, accounts of users who have not consented to the OpsRamp implementation of the GDPR policies are disabled. Contact Support to reactivate your account.
Order of Execution in Device Management policies
As announced in a previous release, the order of execution currently in device management policies are removed. This change has no impact on existing behavior or performance of device management policies.
Service Map UI Changes
In accordance with the deprecation of the classic infrastructure UI, there are several changes to the creation of service maps.