Release Date: March 2021
We are excited to announce our Spring 2021 (v9) update!
This release focuses heavily on our Discovery and Monitoring solution. Our goal is to provide a streamlined monitoring experience for teams that want visibility into Public Cloud and Kubernetes-based applications and workloads.
Note
The features and products discussed below are subject to change between now and the release date.
Discovery and monitoring
Auto-monitoring
Seamless onboarding and monitoring of public cloud, cloud-native, and Linux agent resources
Newly-created clients have the option to set discovered resources to be automatically monitored. This enhancement greatly simplifies the setup process for getting resources onboarded and monitored.
Resources that qualify for auto-monitoring include:
AWS, Azure, and Google Cloud resources
Kubernetes resources, including Openshift and K3s
Linux agent-based resources (RHEL, SUSE, Oracle Linux, Amazon Linux)
Limitation
Only available for newly created clients.
Hybrid cloud onboarding guide
The hybrid cloud onboarding guide focuses on moving administrators from setup and configuration to visualizing performance metrics as quickly as possible.
After the onboarding guide completes, a new dashboard model and a set of curated dashboards are presented. The dashboard model and set of curated dashboards are based on the onboarded integrations and technology.
The resources supported in the onboarding wizard include:
AWS, Azure, and Google Cloud
Kubernetes
Linux agent-based systems (RHEL, SUSE, Oracle Linux, and Amazon Linux)
Note
The onboarding wizard is only operable with resources compatible with the new auto-monitoring model. This setting is only available for newly-created clients.
Alert definition model
Accompanying the new auto-monitoring model, a new alert definition construct is available that allows administrators to streamline threshold settings on metric data. The new model provides enhanced flexibility for setting alerts and a centralized repository of all alert definitions that users set on metric data.
Limitations
The new alert definition model is only compatible with the new auto-monitoring model and with auto-monitoring resources.
This setting is only available for newly created clients.
Availability settings are not currently available.
Dashboards 2.0
The new dashboards allow you to create and customize visualizations for your cloud and cloud-native infrastructures. Dashboards 2.0 has a built-in query builder that allows you to write complex queries using Prometheus Query Language. These dashboards currently support the following tile types: rich text, image, line graph, and bar graph. Dashboard 2.0 also offers a robust color palette to format and style your charts and graphs to fit your needs.
Note
Dashboards 2.0 are only compatible with the new auto-monitoring model. This setting is only available for newly created clients.
Curated dashboards
Curated Dashboards are out-of-the-box dashboards that are configured to give you instant visibility into the status/health of popular cloud/cloud-native services such as AWS, Azure, GCP, and Kubernetes. Curated dashboards can be copied and used as a starting point to create custom dashboards.
Note
Curated Dashboards are only compatible with the new auto-monitoring model. This setting is only available for newly created clients.
Container and cloud-native monitoring
Container-based application detection
With the focus on providing visibility into containerized workloads, native container monitoring is extended to support the discovering and monitoring of containerized applications. Users can visualize application metrics and alert on key performance indicators to ensure that applications are available and running.
Providing visibility into the applications running in containers gives administrators the next level of insight into the services supporting their business applications. Over 25 applications are auto-detectable, including Cassandra, MongoDB, MySQL, and Kafka.
Note
Container-based application detection is only compatible with the new auto-monitoring model. This setting is only available for newly created clients.
Prometheus metrics integration
The ingestion of Prometheus metrics into the platform is available. Metric ingestion provides data federation across their Prometheus instances and long-term storage of Prometheus metric data.
Limitations
The Prometheus metrics integration is only compatible with the new auto-monitoring model.
This setting is only available for newly created clients.
Alert definitions cannot be set for prometheus metrics for the initial 9.0.0.
You can still leverage dashboards 2.0 for metric visualization but need to use the Prometheus Alert Manager integration for alerts.
Enhanced Kubernetes cronjob/job metric support
The Kubernetes agent implementation now collects cronjob and job metrics from kube-state.This enhancement permits visibility into the active jobs running within the kube cluster and enables kube admins to more easily troubleshoot job failures and errors that occur.
CRI-O Runtime Support
The container runtime support is extended to include CRI-O. CRI-O is the default container runtime for RedHat OpenShift. The discovery and monitoring of CRI-O containers is supported. CRI-O provides administrators with additional context about the health and performance of their applications running on the CRI-O container engine.
Filter discovered containers in agent configuration
OpsRamp has extended its container filtering capabilities to allow for administrators to include and exclude containers being discovered and monitored by OpsRamp. You can filter the discovered containers in both the kubernetes and linux agent. This flexibility allows for administrators to only onboard containers that are relevant for their business, and ensure they are only paying for what is important for them.
Public cloud resource support
The public cloud monitoring is now extended to support several key services within AWS and Azure.
AWS
Azure
Azure Blob Storage
Azure Table Storage
Azure File Storage
Azure BatchAI Workspaces
Azure BlockChain
Azure Databox Edge
Azure Logic Integration Service Environment
Azure Kusto Clusters
Updated Azure Metric Support:
Azure CDN
Azure ExpressRoute
Azure monitor event ingestion
Events that are generated by Azure Monitor can now be ingested.
Administrators can post events from the Azure monitor into OpsRamp to federate their event management and reduce event fatigue. Native alert correlation and escalation policies ensure that events are de-duplicated, correlated, and escalated to the appropriate team members.
Block agent installed cloud resources without an integration
Previously, agents installed on cloud resources (AWS, Google Cloud, Azure) without an installed cloud integration automatically connected to OpsRamp. For auto-scaling resources, this often meant that stale resources persisted after the resource was deleted in the cloud provider because agent installed resources are not deleted automatically.
Administrators can configure the option to block cloud resources with an agent installed if there is no matching cloud account ID. This permits administrators to reduce stale resources and ensure that only the resources they care about are onboarded.
Notification and blocking of duplicate cloud account installations across clients
In large organizations, it is not uncommon for many administrators to have access to the same cloud account. Unfortunately, administrators that integrate cloud accounts with OpsRamp might not be able to determine if the account is onboarded previously, and might reinstall it in a separate client. This creates duplicate resources across clients and increases cloud-watch spend. Now, administrators can set configuration to block duplicate cloud accounts across multiple clients.
Datacenter monitoring
Cisco Hyperflex
Discovery and monitoring of the Cisco leading Hyper-converged infrastructure solution, Hyperflex HCI systems, is supported.
Integration covers discovery of Hyperflex components, including clusters, nodes, storage disks, and VMs, monitoring them for performance and availability. Integration also supports event ingestion from Hyperflex into OpsRamp.
Event and incident management
Partner-level first response policy
Users who manage multiple clients on behalf of customers can now create a first response policy at the partner level to significantly reduce the time needed to create and manage alert policies. A single machine learning training file is provided for ease of use and convenience.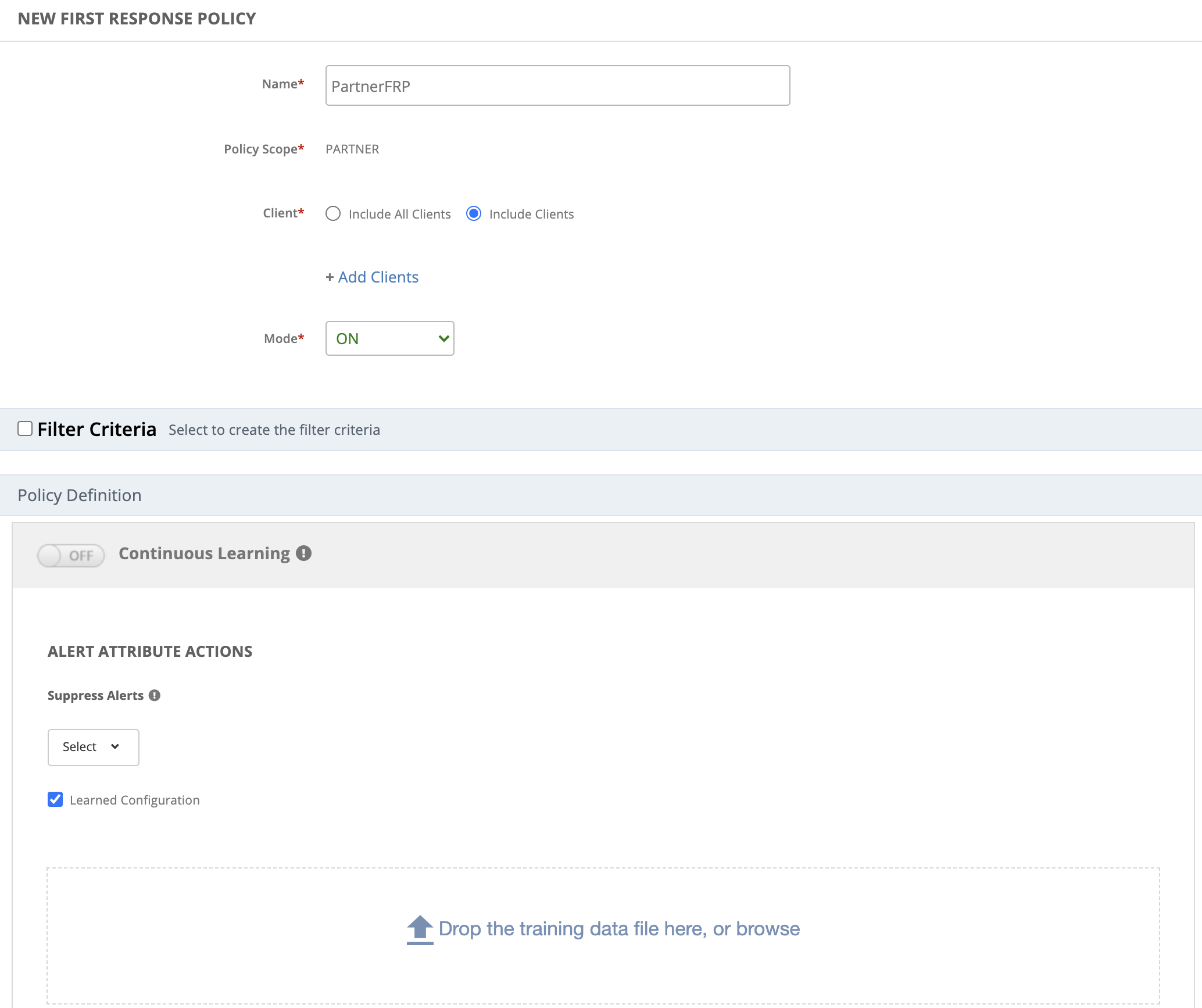 Limitation
Running of process automation workflows.
Seasonality time frame selector
To further reduce alert noise and fatigue, the client level first response policy now includes the option of selecting a time frame of up to three months to identify alert seasonality patterns and suppress them. Previously the default was three months of alert data.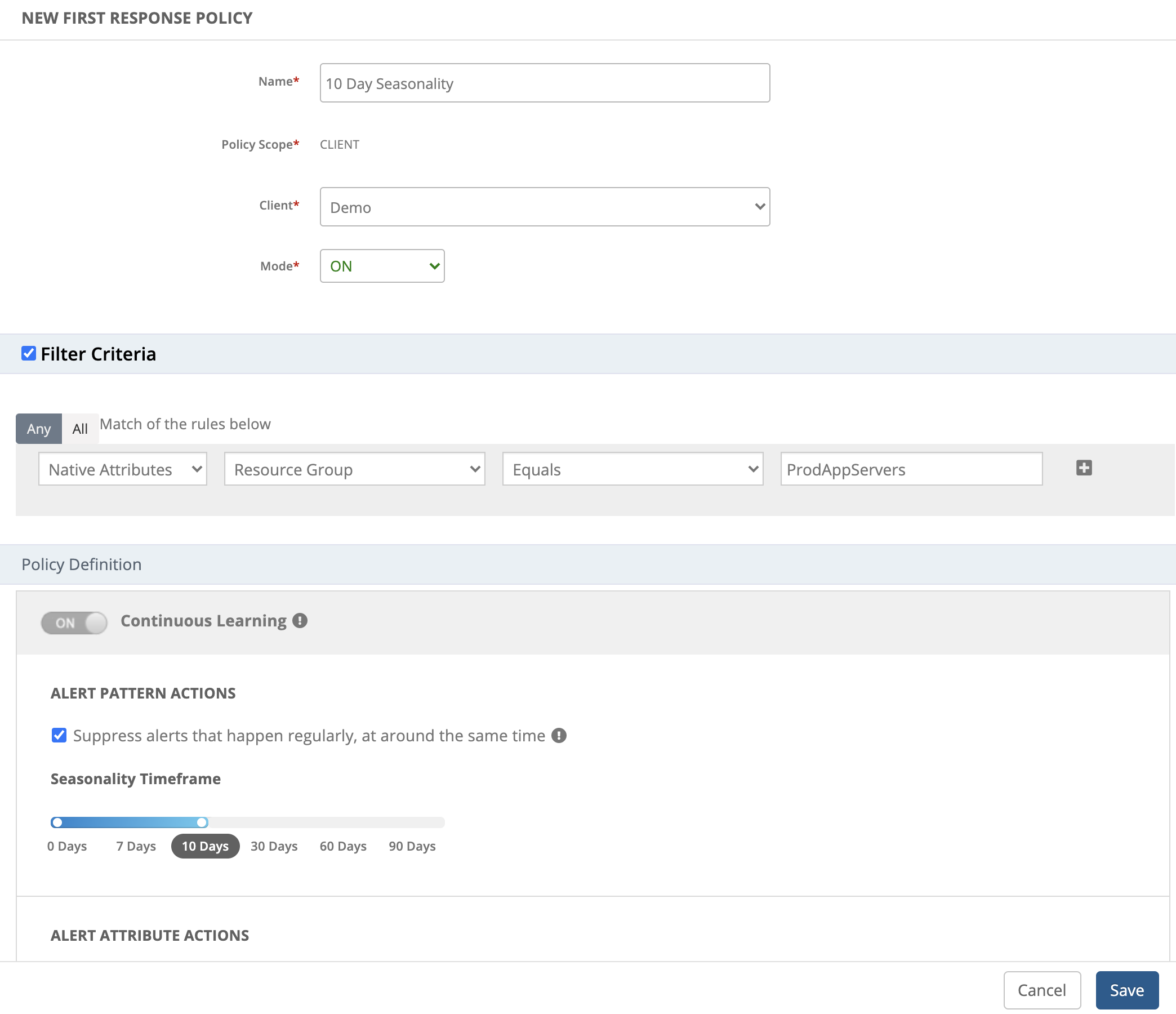 Custom attribute alert escalation support
Users who have defined custom attributes for their resources and services can now select them during the configuration of alert escalation policies when defining alert conditions.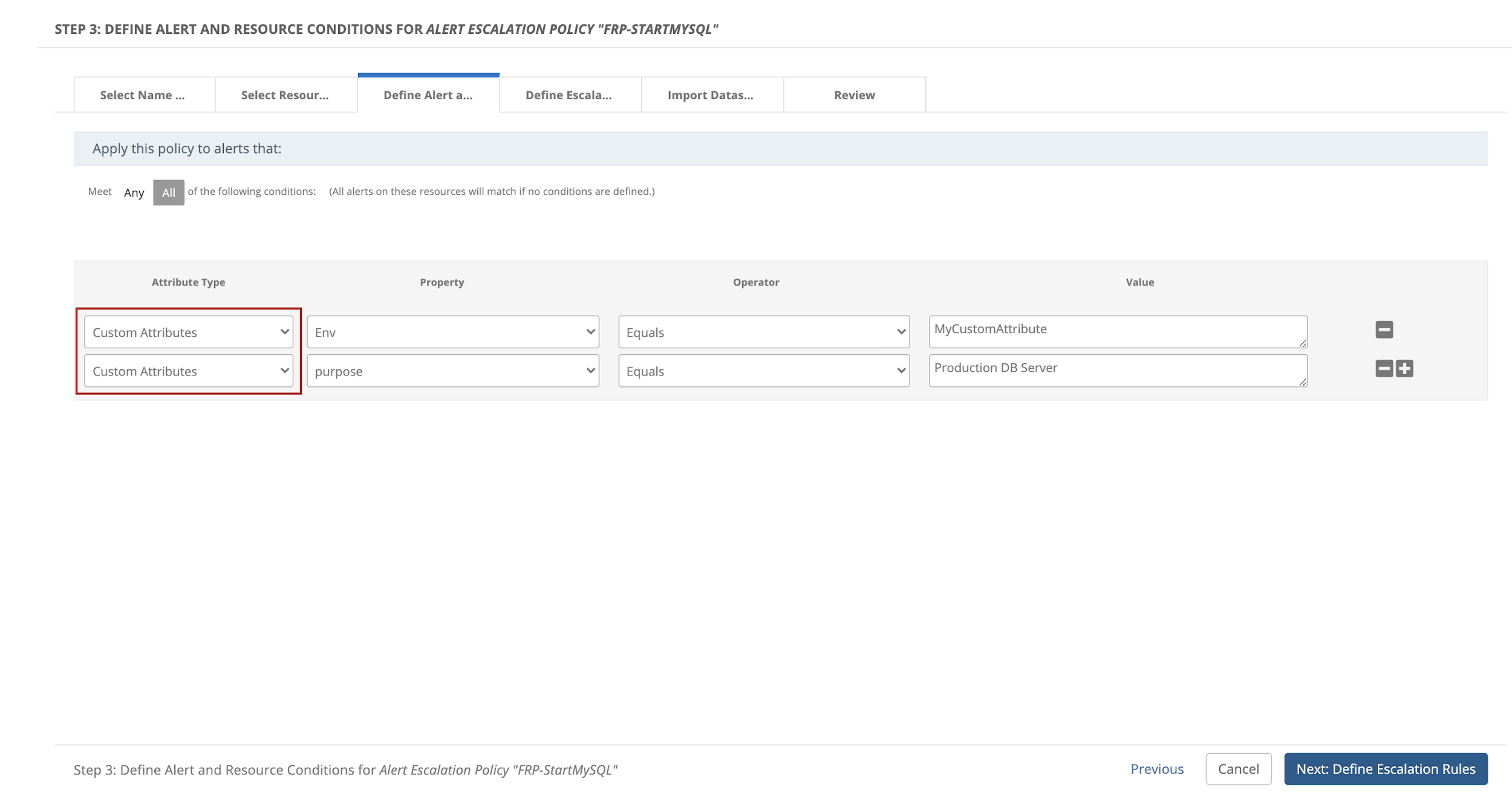 Enhanced webhook-based inbound service management entities
Collaboration integration inbound configurations are extended to support service Requests, problem records, and change record, with incident management. This enhances the capability for integration with webhook-based service management entities.

Remediation and automation
Timer boundary event
Often, during the runtime execution of a process automation workflow, there is a need to pause for a specific time interval before continuing to the next task in a sequence flow. The timer boundary event now adds this flexibility when creating workflows.

Permission set
Administrators can now provide secure access to process automation features within the platform to only those users who are required to view or manage workflows.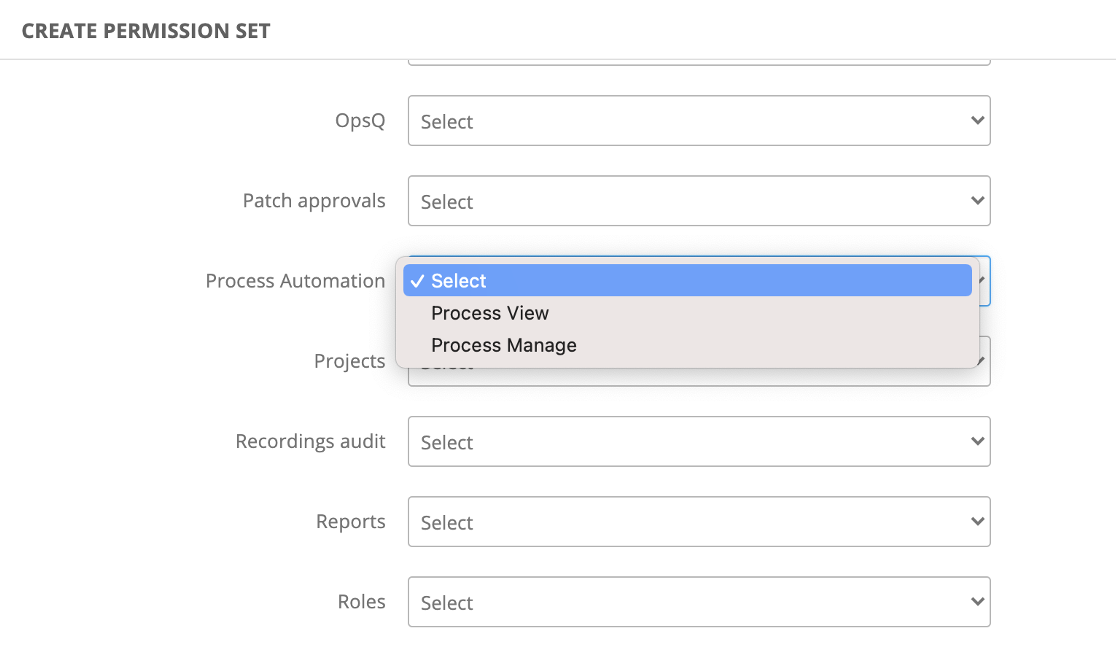 Process definition and instance search bar
A new search bar is provided to enable automation users to rapidly search for process definitions or process instances that are available to manage and view.

Patch management and antivirus
Patch installation progress tracker
Users can now track patch installation progress right from the patch configuration page. You can see the approved, installed and failed patches in the patch configuration in quasi-real-time. This allows the patch administrators to take corrective action on failed devices within the patch window.
Notification for superseded patches
Users can now choose to be notified every time a superseded patch is un-approved. Users subscribing to the patch scan notification email get a summary of all approved patches that have since been unapproved because they are superseded.
Bitdefender antivirus support
Bitdefender antivirus is supported. Users can configure an antivirus update job to update Bitdefender definitions to the latest versions.
Reports and exports
Agent connectivity details in inventory report
The Inventory Report now includes an attribute for the agent connectivity method, for agent-managed devices. This attribute provides information on whether the agent is installed to connect directly or through a proxy.
Include only specific hours of week in reporting period
The customizability of reporting periods is improved by allowing users to report on specific hours for each day of the week. Common usage for this feature is to schedule reports for business operating hours. This change is now available for the Alert Report, Availability Report, and Network Statistics Report.
Metered usage export
A new batch export type is available for exporting resource usage over a time interval. The usage export provides both a breakdown of metered usage by resource type and a breakdown of usage by tenant. This export provides insight into how resource consumption is metered.
UI enhancements and enablement
New infrastructure search
The new infrastructure search allows you to more easily access resources within a certain client. You can do advanced search queries to find resources and access their recent queries at a later time.
New platform navigation
The new navigation allows users to more easily access platform areas from anywhere on the platform. By moving the core interaction to the top header, users have more horizontal space to do tasks.
Modernized login screen
The default login screen now features a modernized look and feel.
New in-app feature request support
You can now submit feedback within the application by clicking on the top right of your user profile icon to access the Resource Center and clicking Share Your Feedback.
The submitted feedback is reviewed by the OpsRamp team and is used to make future product decisions.
In-app guides
The UI now includes feature guides that educate you about new features. These guides highlight a feature with a short descripton or steps you through the process of using a feature.

APIs
The OpsRamp API documentation site is improved and provides the details about the schema and payloads for API endpoints.
Alert management
First response policy APIs is extended to the partner level and at tenancy scope. This feature allows the administrator to efficiently manage all client policies.
First response policy APIs support a seasonalitytimeframe property. This feature defines the training window and is used to detect patterns. Default: Three (3) months of learning data.
Correlation policy APIs are updated to handle Machine Learning attributes using filtering criteria and uploading the training file.
Alert API is available to retrieve correlated alerts for a given Inference alert.
Alert APIs are available to enable automated uploading of training data and automated learning of machine learning-based policies.
Integrations
Cloud API for K8 defines a default parameter.
Collaboration APIs are extended to support change records, service requests, and problem records configurations for webhook-based inbound integrations. This is done by accepting ITSM tools that support webhook-based entities.
APIs for outbound configurations are updated to also support multipart attachments.
Integration API for VMware supports resource discovery configurations for VMware Compute integrations.
Process automation
Automation APIs are available for designing and managing process workflows.
Deprecated features no longer available
Legacy Java consoles
As announced in an earlier deprecation notice, legacy Java consoles are now end-of-life and the listed features are no longer available.
Console launch using VNC
File transfer option using FTRANSFER
Terminal access using RMSHELL option
Teamviewer Integrations
Users can now launch consoles within a browser.
Impacted resource tab
As announced in an earlier deprecation notice, the impacted resources tab and corresponding APIs are removed from the infrastructure page. To gain insight into resource relationships, leverage the native topology explorer and related Topology APIs
Stopped agent support for EOL operating systems
As announced in an earlier deprecation notice, Linux Agent is not supported on CentOS 5.x, Ubuntu 10.x, 11.x, 12.x, and 13.x operating systems because support for the OS has ended.