Meraki provides networking solutions for cloud-controlled WiFi, routing, and security.
Step 1: Configure the integration
From All Clients, select a client.

Go to Setup > Integrations > Integrations.

From Available Integrations, select Network > Meraki and click Install.

Enter:

Integration name
The domain name of the Meraki server
Security key
Port 80, or port 443 if Is Secure is selected.

Click Install.
Step 2: Add a discovery profile
From the MERAKI INTEGRATION screen, click Add: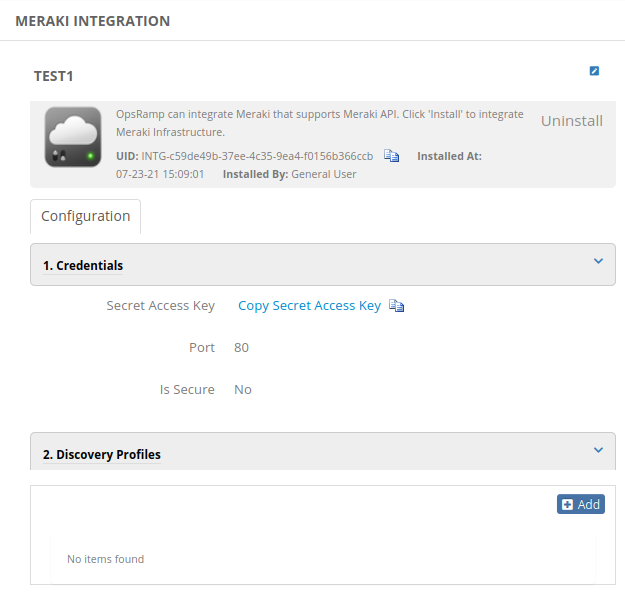 Enter profile details:

Profile name
Host name: The domain name of the Meraki server.

Optionally, select Manage Device in Perform Actions.

Optionally, select and specify a Discovery schedule of how frequently new resources added to the environment are automatically discovered.

Click Save.

In the Discovery Profiles list, click the Scan Now icon, on the right, to initiate scanning:

Verify that the resource was successfully added by going to the Infrastructure > Network Devices screen:

After the discovery profile is created, you can assign monitoring templates to the resource.
Supported metrics
Component
Metric/Group Name
Metric Display Name
Units
network
meraki_network_TotalNumOfClientsConnected

Total number of clients connected to the network
Meraki Network Number of Clients Connected
count
meraki_network_ClientStatus

Status of number of clients: 0 = offline, 1 = online
Meraki Network Client Status
null
meraki_network_WirelessConnectionStats_Success

Aggregated connectivity information for this network
Meraki Network Wireless Connection Stats Success
count
meraki_network_WirelessLatencyStats_BackgroundTrafficAvg

Aggregated latency information of background traffic for this network
Meraki Network Wireless Latency Stats background Traffic
bytes
meraki_network_WirelessLatencyStats_BesteffortTrafficAvg

Aggregated latency information of best-effort traffic for this network
Meraki Network Wireless Latency Stats bestEffort Traffic
bytes
meraki_network_WirelessLatencyStats_VideoTrafficAvg

Aggregated latency information of video traffic for this network
Meraki Network Wireless Latency Stats video Traffic
bytes
meraki_network_WirelessLatencyStats_VoiceTrafficAvg

Aggregated latency information of voice traffic for this network
Meraki Network Wireless Latency Stats Voice Traffic
bytes
wireless
meraki_wireless_DevicesConnectionStats_Success

Aggregated connectivity information for a given AP on this network
Meraki Wireless Device Connection Stats success
count
meraki_wireless_DevicesLatencyStats_BackgroundTrafficAvg

Aggregated latency information of background traffic for a given AP on this network
Meraki Wireless Device Latency Stats background Traffic
bytes
meraki_wireless_DevicesLatencyStats_BesteffortTrafficAvg

Aggregated latency information of best-effort traffic for a given AP on this network
Meraki Wireless Device Latency Stats bestEffort Traffic
bytes
meraki_wireless_DevicesLatencyStats_VideoTrafficAvg

Aggregated latency information of video traffic for a given AP on this network
Meraki Wireless Device Latency Stats video Traffic
bytes
meraki_wireless_DevicesLatencyStats_VoiceTrafficAvg

Aggregated latency information of voice traffic for a given AP on this network
Meraki Wireless Device Latency Stats voice Traffic
bytes
switch
meraki_switch_DeviceStatus

Switch device status
Meraki Switch Device Status
null
meraki_switch_PortsStatuses_Enabled

Switch port status: 0 = false, 1 = true
Meraki Switch Port Enabled
null
meraki_switch_PortsStatuses_status

Visual indication of the port connection status over a 24-hr period: 0 = disconnected, 1 = connected
Meraki Switch Port Status
null
meraki_switch_PortsStatuses_UsageTotal

Switch port total usage
Meraki Switch Port Total Usage
kilobytes
meraki_switch_PortsStatuses_UsageSent

Switch port usage status for the data sent
Meraki Switch Port Usage Sent
kilobytes
meraki_switch_PortsStatuses_UsageRec

Switch port usage status for the data received
Meraki Switch Port Usage Received
kilobytes
meraki_switch_PortsStatuses_TrafficTotal

Switch port total traffic
Meraki Switch Port Total Traffic
kilobytes/second
meraki_switch_PortsStatuses_TrafficSent

Switch port traffic for the data sent
Meraki Switch Port Traffic Sent
kilobytes/second
meraki_switch_PortsStatuses_TrafficRecv

Switch port traffic for the data received
Meraki Switch Port Traffic Received
kilobytes/second
meraki_switch_PortsStatuses_SecureConnectEnabled

Switch port secure connect enabled status: 0 = false, 1 = true
Meraki Switch Port Secure Connect Enabled
null
meraki_switch_PortsStatuses_SecureConnectActive

Switch port secure connect active status: 0 = false, 1 = true
Meraki Switch Port Secure Connect Active
null
meraki_switch_PortsStatuses_SecureConnectAuthenticationStatus

Switch port secure connect authentication status: 0 = disabled, 0 = enabled
Meraki Switch Port Secure Connect Authentication Status
null
firewall
meraki_firewall_DeviceStatus

Firewall device status
Meraki Firewall Device Status
megabytes/second
meraki_firewall_PacketLossPercent

Meraki MX device Uplinks packet loss percentage
Meraki Firewall Packet Loss Percent
percent
meraki_firewall_PerformanceScore

Firewall performance score
Meraki Firewall Performance Score
megabytes/second
IP Camera
meraki_ipCamera_DeviceStatus

IpCamera device status
Meraki IpCamera Device Status
null
VOIP Device
meraki_voip_DeviceStatus

VOIP device status
Meraki Voip Device Status
null
WLAN AP
meraki_wireless_DeviceStatus

Wireless device status
Meraki Wireless Device Status
null
Other
meraki_otherDevice_DeviceStatus

Other device status
Meraki Other Device Status
null