Overview
Smart, innovative, tailor-made interactive solutions that provide tools needed to facilitate enhanced outcomes from collaborative working.
Single large format solutions, interactive video walls, and scalable multi projector solutions support instant video conferencing, creative applications, interactive lectures and meeting plus infotainment systems.
Step 1: Install the integration
From All Clients, choose a client.
Go to Setup > Integrations > Integrations.
From Available Integrations, select Adapter > NEC Displays.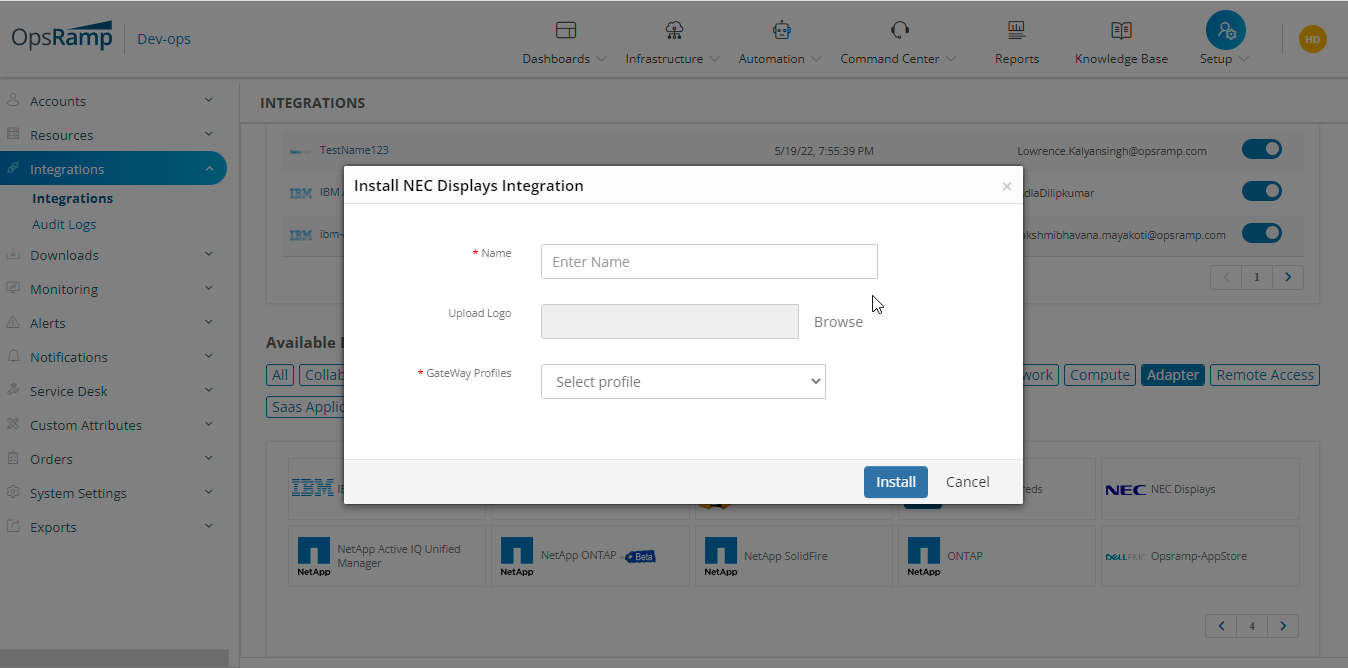 From Install NEC Displays Integrations, enter:
| Object Name | Description |
| --- | --- |
| Name | Configuration name. |
| Upload Logo | NEC Displays device. |
| Gateway Profile | Gateway management profile associated with the client. |
Click Install.
The NEC-DISPLAYS INTEGRATIONS page displays the installed integration in the CONFIGURATION section.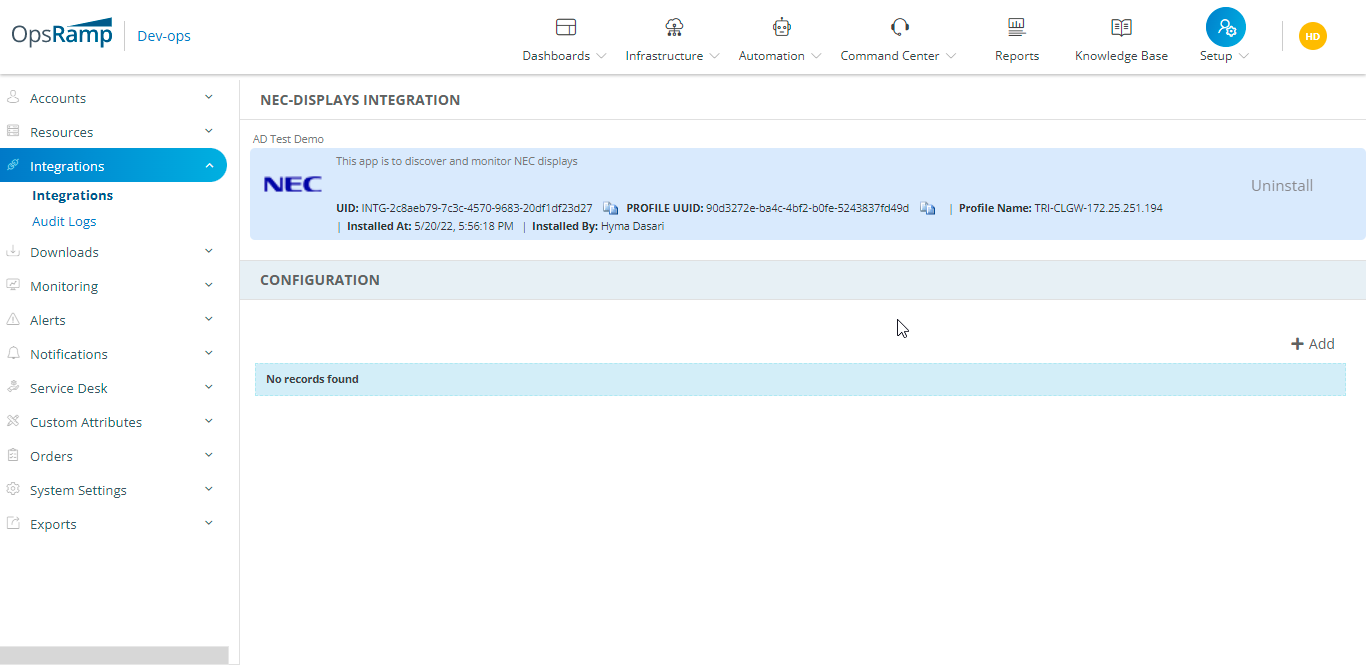 Step 2: Configure the integration
From CONFIGURATION, click + Add.

From the Create Adapter Configuration page, enter:

Name: Configuration name.
IP Address / Host Name: IP address or host name of the target.
Port: Port details.
Note: Enter 161 (default SNMP port)
SNMP Version: SNMP version details.
Community String: Community string details.
Notification Alerts: Select TRUE or FALSE.
Note: By default False is selected.

From the Credentials section, select Custom and enter the target device Username and Password.

From the Resource Types & Metrics section, select the Metrics and Availability you want.
The Resource Types & Metrics section automatically displays the target device resource type such as VoIP.

From the Metrics section select the metrics you want.
Use Import to read in metrics and Export to save metrics locally.

From the Discovery Schedule section, select the checkbox to add a Recurrence Pattern. Choose one of the following intervals:

From the Monitoring Schedule section, select target device monitoring frequency.

Click Save.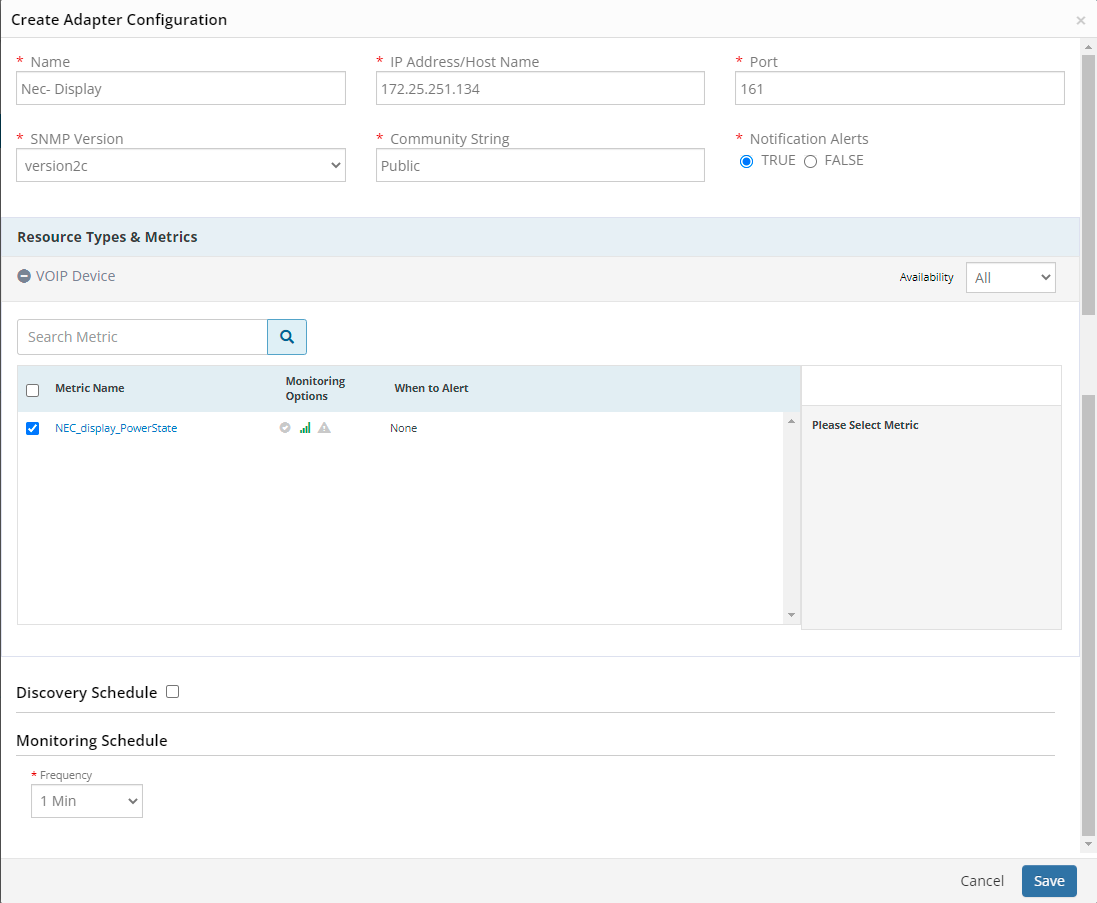 After saving the configuration, the resources are discovered and monitoring is done as specified in the configuration profile.

The configuration is saved and displayed on the page.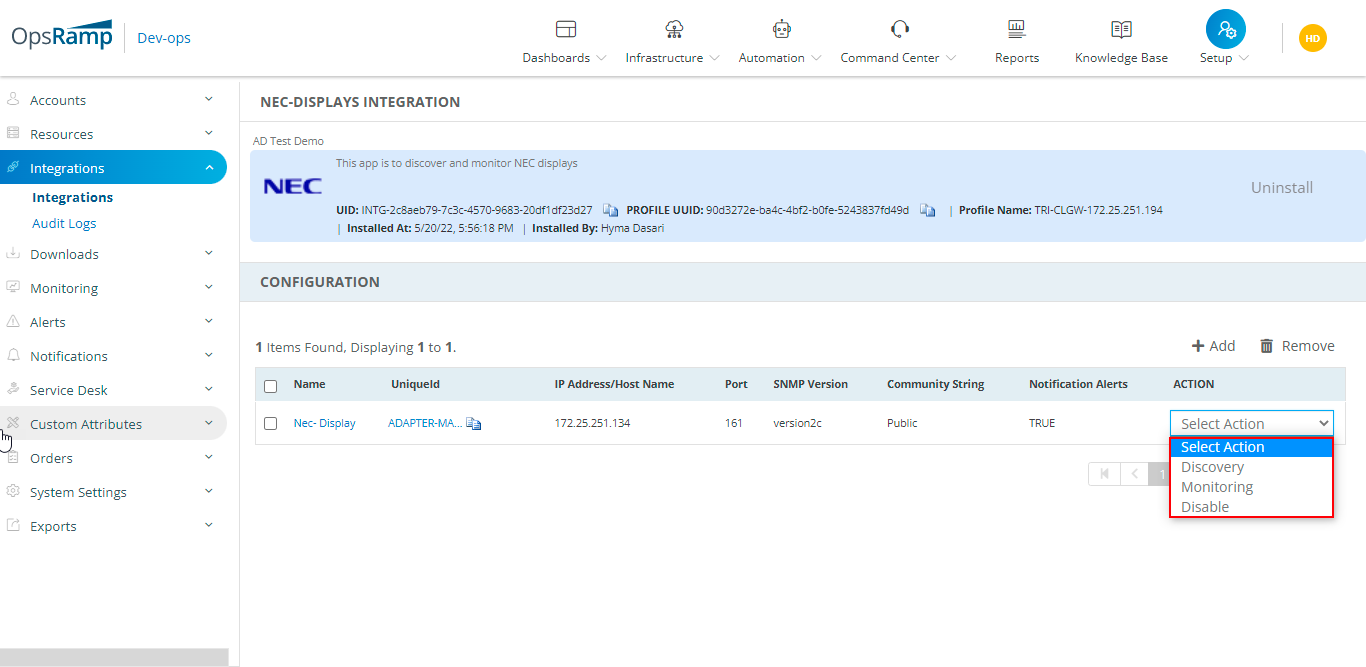 Step 3: View the NEC-display details
The NEC-display integration is displayed in the Infrastructure > Resources > Network Devices > VoIP.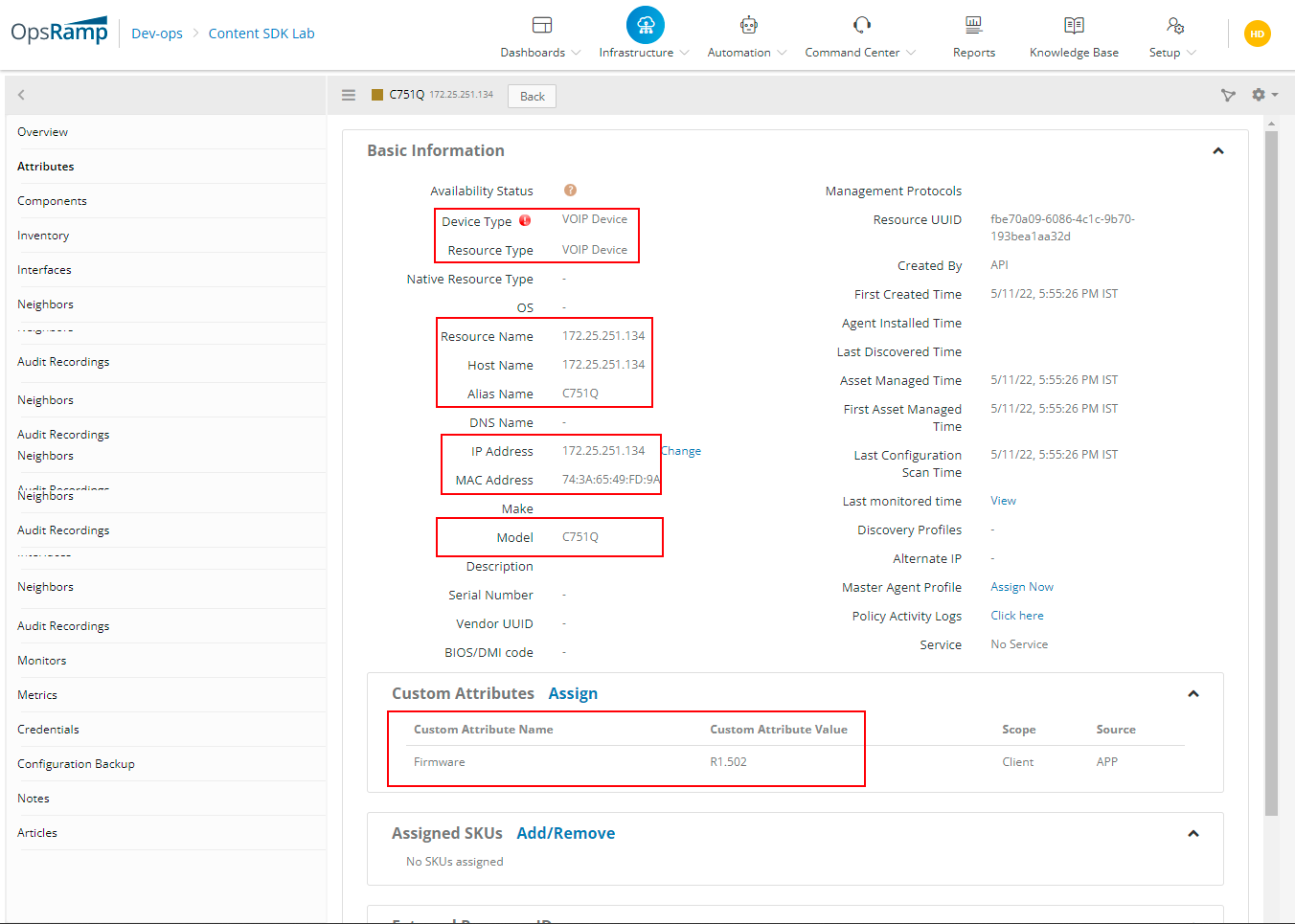 The basic information of the NEC-display is displayed under Attributes, you can check the below information:
| Object Name | Description |
| --- | --- |
| Device Type | Information of the device type |
| Resource Type | Information of the resource type |
| Resource Name | Name of the resource. |
| Host Name | Name of the host device. |
| Alias Name | The name that you have created. |
| IP Address | IP address of the device |
| MAC Address | The MAC address of the device |
| Model | Model number of the device. |
| Firmware | Software instructions residing in non-volatile storage that holds the content without power. |
Supported Metrics
| Object Name | Description | Display Name | Unit |
| --- | --- | --- | --- |
| NEC_display_PowerState | Provides current power status of the device. Possible values are: 1: "Other", 2: "Unknown", 6: "Active Off", 7: "Standby", 8: "Power Saving", 9: "Cooling", 10: "Warming", 11: "On" | NEC Display Power State | |